Do we have a match?
Do you enjoy working in an agile team of experienced colleagues where you learn new things every day, with interesting projects where you get to show what you're good at, and exceed expectations?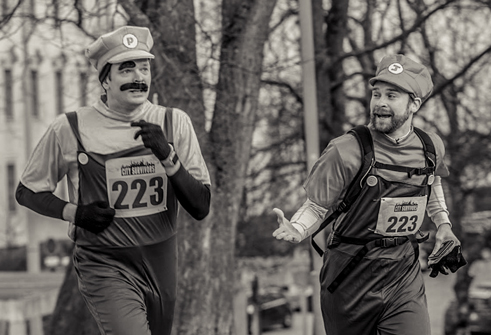 Our story
Make Helsinki was founded in 2015 when Dyyni and Monkey Experience merged. The two companies have a long history of working together in the past and with the merger it enabled us to become a one stop shop for technology related and creative design needs, which is very valued by our clients. Our company is 100% owned by its employees and is in good shape. We are growing profitably and working towards having a positive impact on the world. Whatever the project, our focus is to deliver excellence. With a flexible and down to earth mentality we are committed to finding the best solution for our clients' needs.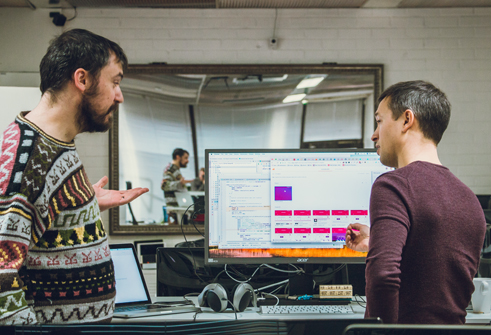 Are you the one?
We are looking for skilled, self-managed, curious and culturally compatible people to join our family. We offer a friendly environment with flat hierarchy, possibility to develop your skills, flexible hours, all the perks, and fun team activities. If it sounds interesting to you, go ahead and apply for the open position below, or send us your open application. We look forward to getting to know you.
Honest
We stand with authenticity, integrity and respect for everyone.
Curious
We collaborate focusing on problem solving, and by exploring new and innovative ways of doing things.
Achieving
We drive the business with agility and care, and we are committed to excellence.
Fun
We believe that having fun creates positiveness and open-mindedness, plus it increases creativity.
Make Helsinki is a development and creative agency located in Kamppi, Helsinki. We are now looking for an enthusiastic XR Lead Developer to join our team in Finland to build better solutions for pharmaceutical and well-being companies. In the near future we will be merging with Healthware Group, which we estimate to be finalized during Q1/2021. 
RESPONSIBILITIES, TARGETS AND TECHNOLOGIES
We offer you an opportunity to work with various XR technologies and projects and further increase your expertise. You will be working on customer projects within our internal project team, as well as occasional consultancy work at customer premises. You will take the lead of XR technologies, their use and research, as well as potential XR team leadership in the future. We have a flat organization allowing everyone to participate in developing our internal processes, the tools we use and support our sales activities.   
Do you want to develop your skills to keep up with the rapidly changing technologies in the XR scene? And maybe even work with other interesting technologies? Make Helsinki develops applications for web, mobile and VR/AR. Our focus is especially on the health and well-being industry.
REQUIREMENTS
* Good mindset, teamplayer and eager to learn new things
* You live in Finland, preferably greater Helsinki area
* At least 5 years of full time experience in software development, with at least 3 years in the field of XR technologies
* Experience with Unity VR development
* Extra points for experience with Zappar AR development
* Extra points for experience with other XR and non-XR technologies, as well as agile software development experience
* Good English communication skills
* Good Finnish communication skills is a plus
WHY WORK WITH US?
We offer you a position which can develop with you. You will have influence on many aspects in our company, not just on development processes. We will support your career development through new challenges, training, interesting projects, and technologies.
We offer a fun environment with flat hierarchy, flexible hours, a lot of perks, a nice office – and a lot of fun team activities!
Some of our perks include:
* Phone, laptop and other required equipment of your own choosing
* Phone connection and home Internet connection
* Electric table for good ergonomics
* Healthcare and free time health insurance, travel insurance
* Breakfast, beverages, fruits, etc. at the office
* Office with shower, sauna, pool & ping pong table, arcade machine, PS, VR and gadgets to play around with..
* Frequent company events to have fun as a community
* Possibility to work remotely
Apply now!
You'll be reporting to our CTO Mauritz Untamala, and working together with our development team and project managers like Antti and Joonas. Mauritz is a senior software architect, with 20+ years of experience. He has been leading our development team for 5 years in a friendly, agile and mentoring manner. We promote constant development of our company, processes and practices, and we continuously want to challenge the current state to do things better.
Our initial salary range for this position is 3500€ – 5000€, depending on applicant skills and seniority. If you are a more experienced developer, feel free to contact us with your salary proposal. We're planning to fill this position as soon as possible.
For more information about the position, you can contact Mauritz Untamala (mauritz@makehelsinki.com, ‭+358 40 833 9881‬) in English or Finnish.
You can send your application via the contact form, or directly to Mauritz via email or LinkedIn.
Get in touch!
You can send us your application and CV, and we'll contact you if we happen to have a suitable position for you now or in the future. Don't forget to tell us what kind of position you are looking for and what kinds of tasks you are interested in.
Please send your application to rekry@makehelsinki.com or contact us via the form below.