Ura Make Helsingissä?
Nautitko työskentelystä ketterässä tiimissä osaavien kollegojen kanssa? Haluatko tehdä töitä työympäristössä, jossa opit uusia asioita päivittäin, ja saat mielenkiintoisia projekteja hoidettavaksesi. Ja pitää hauskaa huumorintajuisen työporukan kanssa.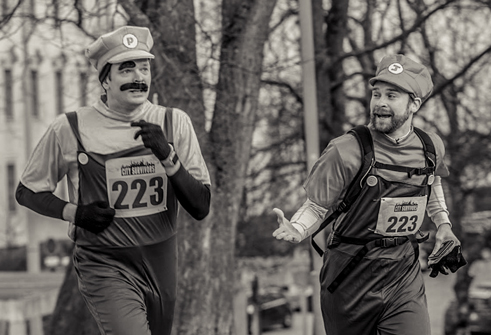 Tarinamme
Make Helsinki perustettiin vuonna 2015 kun mainostoimisto Dyyni Oy ja ohjelmistokehitys-yritys Monkey Experience Oy yhdistyivät. Yrityksillä oli pitkä yhteinen työhistoria ja sulautuminen yhdeksi oli luonnollinen seuraava askel. Asiakkaamme arvostavat laajentunutta osaamistamme ja tarjontaamme. Yrityksemme on täysin sen työntekijöiden omistuksessa ja pärjää taloudellisesti hyvin. Olipa kyse millaisesta projektista tahansa, keskitymme tuottamaan tuloksia, jotka ylittävät asiakkaan alkuperäiset odotukset. Joustava ja maanläheinen mentaliteetti auttaa meitä löytämään parhaat ratkaisut asiakkaidemme tarpeisiin.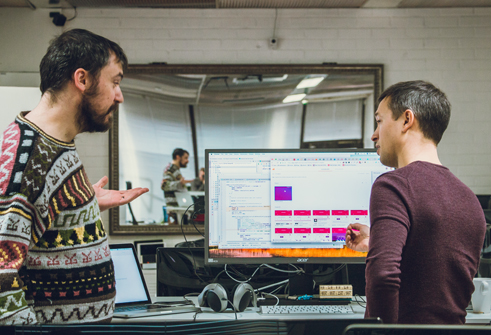 Liity joukkoomme!
Etsimme taidokkaita, oma-aloitteisia, ja uteliaita ihmisiä tiimiimme. Tarjoamme mukavan työympäristön, jossa on matala hierarkia, mahdollisuus kehittää taitojaan, joustavat työajat, laajat henkilökuntaedut ja hauskoja aktiviteetteja tiimin kesken. Jos alkaa kuulostaa hyvältä, ota yhteyttä alla olevalla lomakkeella, tai lähetä meille avoin hakemus.
Rehellisyys
Olemme avoimia ja rehellisiä ja kunnioitamme kaikkia ihmisiä.
Uteliaisuus
Keskitymme ongelmanratkaisuun ja tutkimme innovatiivisia tapoja tehdä asioita.
Tehokkuus
Panostamme joustavuuteen ja laatuun, ja pyrimme aina huipputuloksiin.
Hauskuus
Uskomme että hauskanpito luo positiivisuutta ja avoimuutta ja lisää luovuutta.
Make Helsinki is a development and creative agency located in Kamppi, Helsinki. We are now looking for an enthusiastic XR Lead Developer to join our team in Finland to build better solutions for pharmaceutical and well-being companies. In the near future we will be merging with Healthware Group, which we estimate to be finalized during Q1/2021. 
RESPONSIBILITIES, TARGETS AND TECHNOLOGIES
We offer you an opportunity to work with various XR technologies and projects and further increase your expertise. You will be working on customer projects within our internal project team, as well as occasional consultancy work at customer premises. You will take the lead of XR technologies, their use and research, as well as potential XR team leadership in the future. We have a flat organization allowing everyone to participate in developing our internal processes, the tools we use and support our sales activities.   
Do you want to develop your skills to keep up with the rapidly changing technologies in the XR scene? And maybe even work with other interesting technologies? Make Helsinki develops applications for web, mobile and VR/AR. Our focus is especially on the health and well-being industry.
REQUIREMENTS
* Good mindset, teamplayer and eager to learn new things
* You live in Finland, preferably greater Helsinki area
* At least 5 years of full time experience in software development, with at least 3 years in the field of XR technologies
* Experience with Unity VR development
* Extra points for experience with Zappar AR development
* Extra points for experience with other XR and non-XR technologies, as well as agile software development experience
* Good English communication skills
* Good Finnish communication skills is a plus
WHY WORK WITH US?
We offer you a position which can develop with you. You will have influence on many aspects in our company, not just on development processes. We will support your career development through new challenges, training, interesting projects, and technologies.
We offer a fun environment with flat hierarchy, flexible hours, a lot of perks, a nice office – and a lot of fun team activities!
Some of our perks include:
* Phone, laptop and other required equipment of your own choosing
* Phone connection and home Internet connection
* Electric table for good ergonomics
* Healthcare and free time health insurance, travel insurance
* Breakfast, beverages, fruits, etc. at the office
* Office with shower, sauna, pool & ping pong table, arcade machine, PS, VR and gadgets to play around with..
* Frequent company events to have fun as a community
* Possibility to work remotely
Apply now!
You'll be reporting to our CTO Mauritz Untamala, and working together with our development team and project managers like Antti and Joonas. Mauritz is a senior software architect, with 20+ years of experience. He has been leading our development team for 5 years in a friendly, agile and mentoring manner. We promote constant development of our company, processes and practices, and we continuously want to challenge the current state to do things better.
Our initial salary range for this position is 3500€ – 5000€, depending on applicant skills and seniority. If you are a more experienced developer, feel free to contact us with your salary proposal. We're planning to fill this position as soon as possible.
For more information about the position, you can contact Mauritz Untamala (mauritz@makehelsinki.com, ‭+358 40 833 9881‬) in English or Finnish.
You can send your application via the contact form, or directly to Mauritz via email or LinkedIn.
Voit lähettää meille avoimen hakemuksen ja CV:n. Otamme sinuun yhteyttä jos sinulle sopiva paikka tulee avoimeksi tulevaisuudessa. Muistathan kertoa meille minkälaista paikkaa olet hakemassa ja minkälaisista työtehtävistä olet kiinnostunut.
Ole hyvä ja lähetä hakemuksesi osoitteeseen rekry@makehelsinki.com tai ota yhteyttä alla olevalla lomakkeella.