Frontiers Health event was held in Berlin again this year in mid-November. It gave a nice insight into the future of health – and digital is going to be a big part of it!
During the event we were introduced to a wide range of interesting startups working with digital health. There was a good overview of what is happening with digital therapeutics. We also learned a lot about where the industry is going. So what can you expect from digital health in the future?
Digital Therapeutics
According to Wikipedia, digital therapeutics are evidence-based therapeutic interventions driven by high quality software programs to prevent, manage, or treat a medical disorder or disease. It has been getting a lot of traction in the recent years and is estimated to be an 8 billion euro market by 2025. Although, from discussions at Frontiers it was suggested, that the market could be significantly larger. So how can digital therapeutics help patients?
Virtual reality (VR) is a very visible part of digital therapeutics. For example, OnComfort offers a VR solution to reduce anxiety in different situations and has already been proven very successful. Oxford VR demonstrates how a single session in VR can reduce your fear of heights. New solutions are being launched on the market all the time and more are being developed as we speak. Virtual reality, mobile apps and web services, supported by artificial intelligence and machine learning are helping us with our physical and mental issues. Pharmaceutical companies are investing millions of euros into new digital services to ensure that we would not need to eat so much pills in the future.
Digital therapeutics is also bringing cognitive behavioural therapy (CBT) to the masses. At the moment patients need to queue for months or even up to a year before starting CBT therapy. In the future, with the help of digital therapeutics, we could really tackle mental health issues much faster compared to how it is used to be. The opportunities are endless: Pain, sleep, anxiety disorders, and so forth. In the near future we are going to see a mindset change in treatments, getting help faster and eating less pills.
At Make Helsinki, we've been involved in developing several digital therapeutics projects – and we we are excited to be involved in more of these kinds of projects in the near future!
Future of (digital) health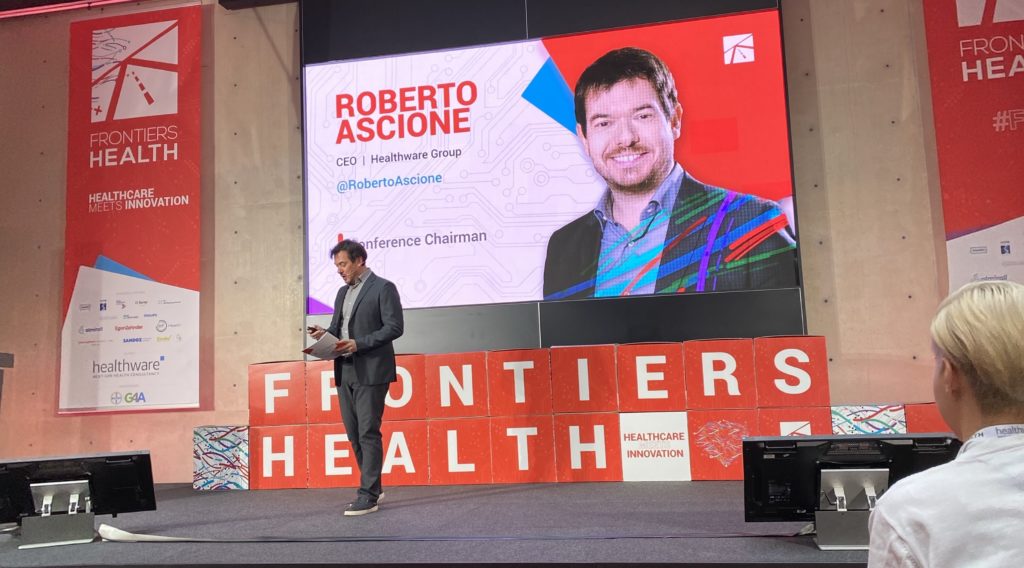 Digital therapeutics was a big part of Frontiers Health event. But digital services are also growing around it, supporting patients and the health care professionals. New services are emerging to support communication between patients and doctors, for instance like the already established player Kaiku Health.
There are services helping to get better and faster help to patients. For example Cliniserve is bringing communications solution to hospitals, that help patients to communicate their exact needs with nurses. Not only will patients get better service, but this makes nurses work more efficient and they can free up to 53 minutes of time every day per nursing station.
Digital services also help calculate the correct dose of medicines, either for doctors or patients themselves. Consumers are already measuring various things about their bodies. For instance some have sensors measuring their blood sugar levels which alarms them when they need to take action. These kinds of services can help patients live a fuller and healthier life.
Additionally there is of course a growing utilisation of big data and machine learning, helping to improve, optimise and fine-tune healthcare. Real world evidence (RWE) is used as a source to validate biomarkers, and clinical trials are already collecting RWE with different sensors. This data helps companies to proove that their remedies are not only mitigating symptoms, but also improving the overall quality of life of patients.
More to come
If you are interested in the future of digital health, I can highly recommend that you participate in the Frontiers Health next year. Additionally they organise fast track events in various locations during the year – definitely worth checking out! If you want to talk more about opportunities in digital health or digital therapeutics, feel free to contact us!