We recently interviewed a happy Paw Map user in the US. Alisa Cowan lives in Scarborough, Maine with her two dogs. Copper is 14 years old and a rescue dog. Alisa thinks he most probably is a Finnish Spitz mix. Xena is a Great Dane and almost two years old now.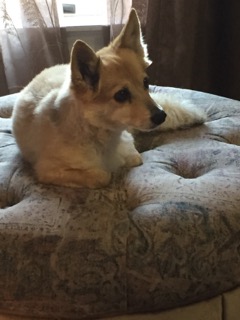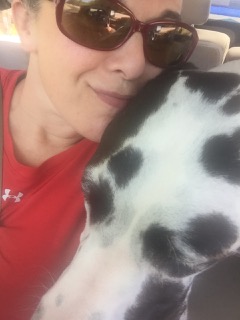 What do your dogs like to do? 
Copper's favorite thing to do is bark. Seriously. It's part of the reason we believe he's a Finnish Spitz. We were home watching a TV show about dogs, and up pops a picture of a dog who looks just like Copper. They said it's a Finnish Spitz, also known as a Barking Bird Dog, known for rapid barking of up to 120 barks per minute. In addition to barking, he loves swimming and chasing rodents.
Xena's favorite thing to do is lay on the couch. We take her on a walk every day, and she's fine with that. On the weekends we try to go to a lake or the beach or a dog park, and after that she's ready to sleep for days on end. She has no sense of her size or personal space – in fact, I think she thinks she's Copper's size. He weighs ten pounds; she weighs 150.
What do you usually do together with your dogs?
My dogs are definitely pack animals. They're happiest when the whole family is in the same place. When we go out exploring and they can be off-leash, they are always looking back to make sure we're not too far behind. Well, Copper is looking back to make sure he really is in front of Xena, I think. The littlest dog runs the pack.
How long have you used the Paw Map application?
I've been using Paw Map for a few months now.
What do you like about the app?
I like that Paw Map encourages input from everyone, and it's updated in real time. I've seen warnings about everything from glass in the parking lot, to a large snake skin found near a river. I also like that I can check on warnings when I go to a new place where I may not be familiar with potential hazards.
Is there anything that could be improved in your opinion?
I honestly can't think of any improvements for the app as it is.
Do you have any tips or ideas to give to the development team at Make Helsinki?
If you are open to adding items other than warnings, it might be nice to show dog-friendly locations and laws. Where I live, there are some beaches that are open to dogs, but with restricted hours and varying leash laws, and there are dog parks nearby. I know if I was travelling, or just looking for an adventure, I'd love to know what areas are dog-friendly.
Would you recommend the app to other dog owners, friends and family?
I would absolutely recommend Paw Map. We all want our furry family members safe and happy!
Paw Map is a free dog owner community app. It helps dog owners to avoid glass shards, dangerous animals, poisons and other hazards outside. Join the Paw Map community now by downloading the app for your iOS or Android phone and then start marking and avoiding potential dangers in your area.
Together we can make the walks safer for all dogs!