I got my Apple Watch on the 21st of May. After using it actively for over hundred days, I've learned to appreciate it in many, subtle ways.
The Apple Watch was unveiled a little over a year ago, and it hit the markets last April. During the first day of pre-ordering, almost one million Apple Watches were purchased only in the US. Quite a contrast to the fact that during 2014 a bit more than 700 000 Android Wear smart watches were sold. The Apple Watch salesfigures during the first nine weeks were higher than the original iPhone or iPad. Although it might be slightly biased folks among the early adaptors of the Apple Watch, the consumer satisfaction is an incredibly high 97 %. The Apple Watch is still not available in many markets (including Finland), so there is still a big potential customer base to attract.
Looking at these figures, you'd think they've done something right. However, there are countless of complaints and rants about the uselessness of Apple Watch. And the most common questions I get from people who notice it are "Is it any good? What do you do with it? Can I try it?"
"Our most personal device ever"
Apple was right when they said that it is their most personal device ever. When I got my first iPhone, it was easy to show and tell about the cool and new features it had. The same goes with iPad, and many other products from Apple, and other companies too. But Apple Watch is not like that. It's not a toy you want to give to others, and show them some cool and special features of it. It's an extension to my iPhone – and a personal one.
I have a lot of small, personal uses for it. Some of them feel a bit silly or useless even for me, but I've grown to appreciate them. I nowadays have my phone and watch both on silent all the time. I spend (a bit too much) time in meetings at work, and can now very subtly see who is calling without interrupting others. I've actually missed fewer calls now, because now I can feel the vibration on my wrist. Same goes for SMSes, calendar notifications, emails, etc. With a practically unnoticeable wrist movement I can see what is going on, and whether I need to react quickly to something. I have a set of predefined replies configured to quickly answer to simple matters and for more complex things I do need to take out my phone or laptop. But the need for that has immensely reduced during the past months.
My default watch face also gives me a lot of information quickly. I often check my meetings for the day in the morning as well as check the current outside temperature. And now I don't need to pull up my phone twenty times a day to see what time it is, because… well, Apple Watch also shows the time! These features got even faster and better with the Time Travel on the new watchOS 2: just by rotating the crown of the watch I can see how my schedule and the weather change during the day (or the next coming days).
I've also used my watch occasionally as a remote to my iPhone camera, to get navigation instructions (very useful especially when biking), to control the music player – and to play around with heart beat, sending drawn messages to my friends with Apple Watch and testing different apps. But the most useful use for me – as well as for many other users – is the activity tracking.
The Apple Watch has really helped me to exercise more, almost from the very first day I got it. I currently have a daily active calorie target of 650 kcal. That, with 30 minutes of daily exercise and getting my ass up from the chair at least once per hour during the hours of being awake has helped me to improve my general condition very much. I've achieved this during more than hundred days in a row now and feel more energetic, active, and my sleep quality has improved. Getting those three circles (calories, exercise, standing) filled every day has really become a game for me. So far it has been the best help to motivate me to go running and exercising.
Of course, it's not perfect. With normal use, you need to charge the watch at least every other night. Though I personally don't like wearing a watch while I sleep, and I usually charge my phone during nights anyway, so it's not an issue for me. If you don't use some of the apps regularly, starting them up can be slow occasionally. Also, the watch still has some rare bugs that require restart. But all in all, for a first generation device, it has much better software and hardware quality than I would have expected. Furthermore the new watchOS 2 has brought a lot of new opportunities, features and apps to make the experience even better.
Great apps are the path to success
Apps for the watch are currently still in a very early stage. Developers are slowly starting to build useful- and well thought through apps for the watch, instead of just offering an iPhone app for a smaller window on your wrist. With the watchOS 2, developers can access the hardware more easily (the digital crown, microphone, etc) and build native apps, which allows much more potential to develop meaningful new experiences. Developers need to think about the use cases on a watch, as they are very different from a phone app. In the end, if developers can adapt their mindsets and create really interesting, useful and entertaining apps for the watches, that will help the Apple Watch to become successful.
We at Make Helsinki have also been working on several Apple Watch (as well as Android Wear) projects and are excited about the opportunities it brings to our customers, as well as to our developers.
Even though the sales have started well and Apple Watch already is the biggest player in the wearable markets, its future is still unsure. The sales haven't been that great for Apple to announce the exact sales numbers. Moreover, many  people haven't yet really grasped that Apple doesn't aim to target the gadget markets, instead they are targeting the higher end watch market. The focus is on quality, design, style and co-marketing with existing luxury watch brands. The fact is that they are investing millions and millions of dollars to further develop the next models. I am most definitely already looking forward to the next generation model, but the question remains: Will the smart watches penetrate the mass market? Current forecasts are at least looking good.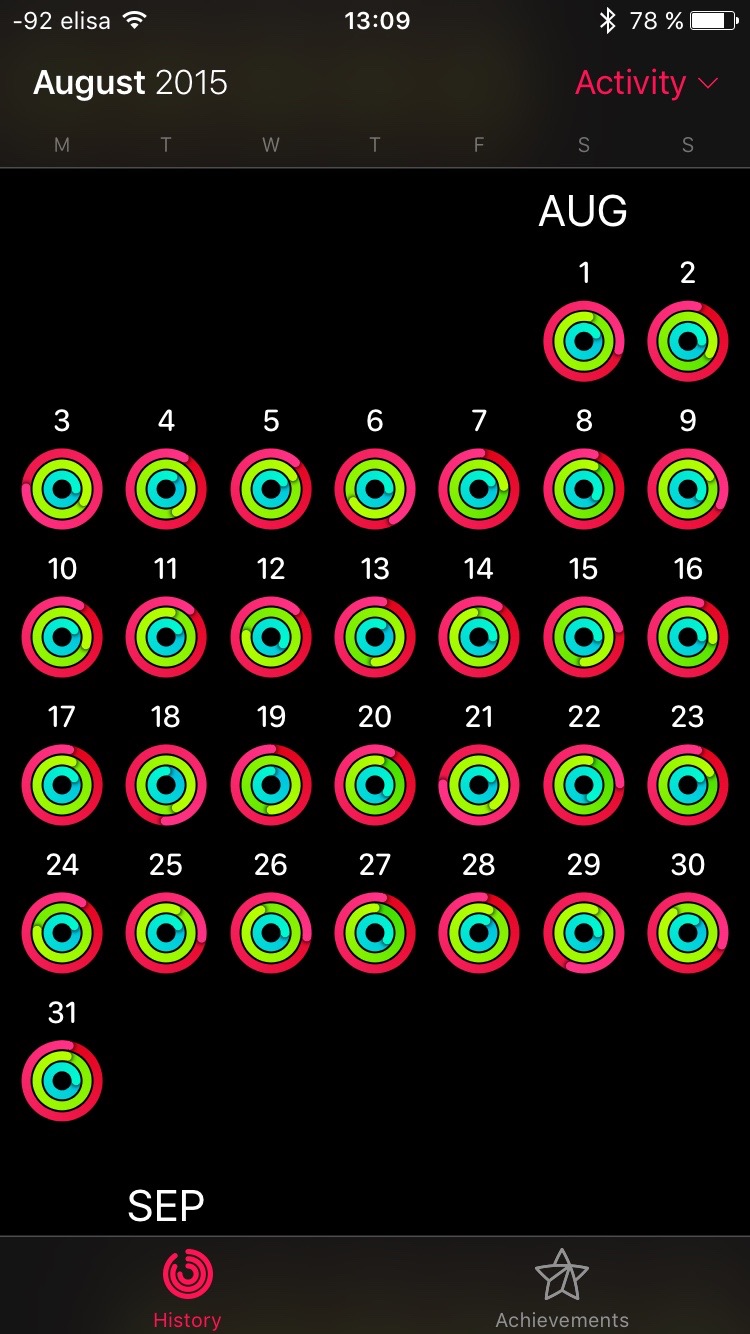 Perfect month of activity!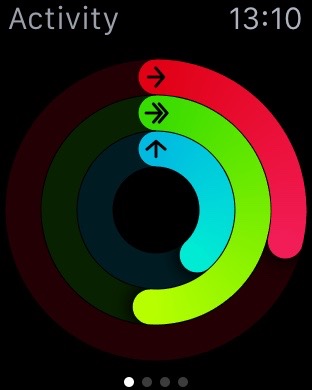 Current activity status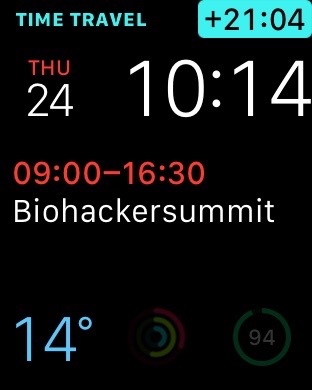 Time traveling to see tomorrows events