Web, Mobile, AR and VR?
We have many years of experience in software development. Our two key competences are web development and mobile development. We have also worked with various supporting areas, like virtual reality, augmented reality, and mobile games.
We have a long experience with web development, creating beautiful websites, highly scalable backend services, user friendly frontend pages, as well as WordPress based websites and web shops. Currently the key technologies we use are React, AngularJS and Node.js, but we do have a wide variety of experience outside these ones listed here. See our dedicated web development section for more information about things we've been working on.
We've also built mobile applications, actually even longer than we have been working with web development. Our first published app Viiniopas was released in App Store in 2010, and after that we've built countless other mobile applications and services. Nowadays we mostly focus on native iOS (iPhone, iPad, Apple Watch, Apple TV) and native Android projects, as well as hybrid applications, most recently with React Native.
Additionally, we have worked with different sensors, game development with Unity, and most recently with virtual reality and augmented reality projects. You can always contact us for more information about our experience with different technologies.
We can also provide extra hands to help out in customers teams. This is a risk-free and fast way to get professional developers to help you build or finalise your development projects. Contact us to hear more about hiring developers or for more information about the services we provide. We're happy to help!
Web development
Web development tools, technologies and frameworks are adapting very quickly. New libraries become available on a daily basis and the mostly used tools today might be forgotten in a year or two. That's why we are closely following the web development trends and constantly improving our team's competence in different areas. Our team of experts are helping clients to grow their business and to be successful, including Orion, Unilever, Specsavers, Sulapac, and Ekahau, to mention a few.
Usually, web development starts from the service design point of view, defining how the final product will work, look and feel. Our experts will then work on the backend (=usually the business logic and data storage) and frontend (=usually what the end user sees), to create a beautiful and well working experience. We have a quality assurance team who make sure everything works smoothly before we release the service to a production environment. We can help with all these aspects, even as a turnkey solution.
On the backend side we nowadays mostly work with Node.js, though we've been involved with numerous other technologies (Java, PHP, .NET & Python to name a few).
Data is stored on relational databases (MySQL, Postgresql, etc) or nosql databases (MongoDB). We usually host our services on Heroku and Amazon, but we also have experience with Google's cloud and Microsoft Azure.
Frontend development always starts from creative design and service design. Our developers eat and breathe html5, css3 and javascript, and follow the evolving and growing list of frontend frameworks. Currently the most popular frontend frameworks we use are React and AngularJS. They allow a seamless and fast integration to backend services.
We also build simpler, "normal" websites and web shops. Lately we have utilised WordPress more often, which comes with user friendly content management system for non-technical users. Recent projects include sites for Orion Aptus products, Ekahau, Mobey Forum, and Sulapac. We usually co-operate with a Finnish WordPress-PaaS (Platform as a Service)-provider, Pilvia, for reliable and up-to-date WordPress-hosting.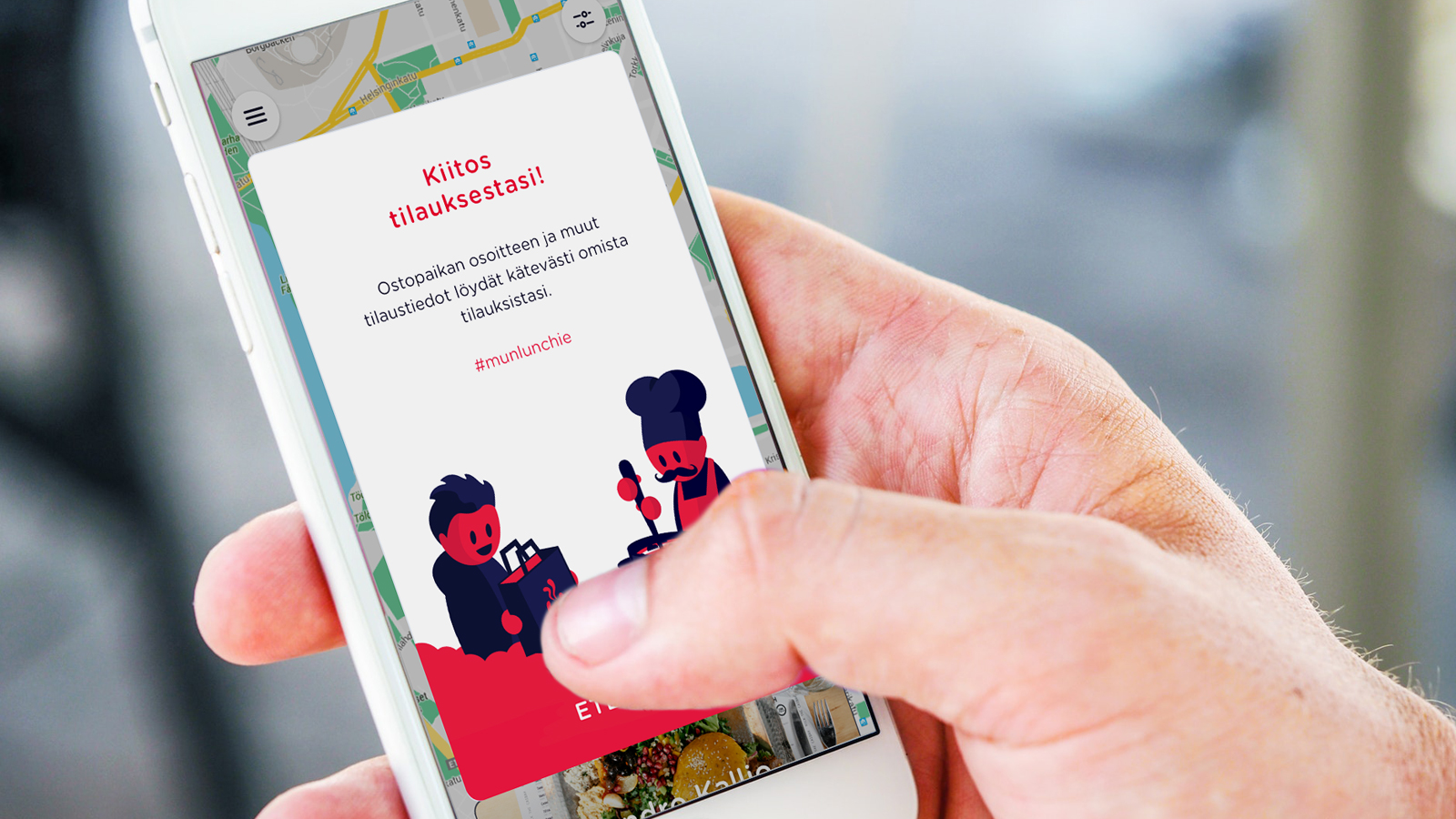 Mobile development
The first mobile application we created was Viiniopas, which was released in App Store in 2010. Afterwards we made versions of the app for Android, Windows Phone and now already quite dead Qt. Since then, we've been working on countless other mobile applications and services like Paw Map, Doog, Lunchie or My well-being.
Our development team has a long experience working with native iPhone/Android projects, rich mobile web sites, as well as hybrid applications. Hybrid development frameworks allow building applications for both iPhone and Android from a single code base and can thus reduce development time and costs.
This however depends on the nature of each project and we always work together with the customer to select the best technologies for each project. Recently our most used hybrid framework has been React Native.
We love to create user friendly and beautiful looking mobile experiences, and therefore we incorporate our creative design and service design teams to perfect the user experience. On many occasions we have also helped customers to define and fine-tune their mobile strategy in order to best support their core business with mobile apps and services.
Augmented and Virtual Reality
Since 2009 our key development focus has been on mobile and web development. We have however worked with multiple other technologies, including different sensors and gadgets, game development with Unity, as well as augmented and virtual reality.
We started experimenting with virtual reality (VR) concepts in early 2015 with the Oculus Rift Development Kit. Since then, we have also been working with different HTC models (Vive, Vive Pro, Focus), Google Daydream and Oculus Go to create event demos, concepts, and prototypes.
These VR products allow companies and their customers to have completely new experiences, play new kinds of games and increase brand awareness on a new level. Feel free to contact us if you want to hear more about virtual reality. We can also meet at our office in Kamppi, where you can discover for yourself the opportunities of VR.
One thing that we have incorporated in our virtual reality experiments is 360 video. We have tested multiple different 360 cameras to demo virtual tours, create social medial materials and incorporate them into 3D modelled environments.
AR (Augmented Reality) allows bringing added content, information and experiences to real life applications. We have been experimenting with different technologies for some time now.